by Moss
3/7/11
Moss has been diligently reading many periodicals, books, reviews, news, bios, etc. Here are ten recent
books
to check out, not in any particular order. Reviews below!!
1. Cartwheels in a Sari - Jayanti Tamm
2. Man on a Wire - Philippe Petit
3. The Jokes Over - Ralph Steadman
4. The Whale Warriors - Peter Heller
5. Husker Du - Andrew Earles
6. Operation Bite Back - Rod Coronado
7. Presumed Dead - Henry K. Lee
8. The Bedwetter - Sarah Silverman
9. Going Vertical - Tao Berman
10. Piss Clear - Adrien Roberts
Jayanti Tamm writes about her life in the Sri Chinmoy cult, which included such members as Carlos Santana, Narada Michael Walden and John McGlaughlin. Quick reading style with an occasional glimpse into Chinmoy's sadistic, revengeful ways (although I would have enjoyed more salacious details).
Amazing story about Phillipe Petit, who takes literally the phrase "going out on a wire." Petit uses a high wire cable to traverse across various high rise building, towers, etc. Very cool book about playing with fear and overcoming public perception. Especially playful...a renegade in the name of Spider Dan and BASE jumpers worldwide.
Ralph Steadman's up close and personal view into his relationship with the late, great Dr. Hunter S. Thompson. Endearing, yet critical of the master joker. An exquisite highlight is his first encounter with the good doctor at the Kentucky Derby...he sure didn't know what he was getting into.
Whale Warriors is about a journalist who rides along with the Sea Shepperd, on a journey to confront Japanese whalers in the Antarctic. It has it's moments of shear terror, backed with a lot of turbulent crew member-views and weather related descriptions. Worth reading about this group before they do something really stupid...like kill themselves or their Japanese opponents. Note the author, Paul Heller, is just riding along (not to be confused with his Vegan anti-everything crew mates).
One of the only books I've ever seen about only Husker Du. Valuable critique of the band and other bands of the era...but a little too heavy on song descriptions and discography.
Rod Coronado takes us on his journey as both the spokesperson and mastermind of a cell of the Animal Liberation Front. Coronado surprisingly gets away with many terrorist actions (mostly choosing one animal to focus on at the expense of others). He vehemently denies he is a terrorist, but many in the environmental community disagree. Definitely worth the read.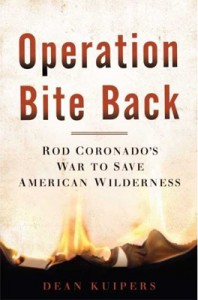 Hans Reiser was an intelligent computer programmer who found a stunning mail order bride from Russia, who he killed after she left him (she claimed abuse, he claimed fraud). They had kids who last saw Mommie and Daddie together the day she disappeared (with rotting groceries in her car). Henry Lee who wrote the book (his first) does a thought-provoking job uncovering and shining light on the murder and suspect. Especially fun is when he becomes the story, during an episode where he chase Hans Reiser down the street.
Silverman's memoir is funny of course. She is awkward, dorky and kinda hot and sexy. Not alot of there there...but you know she has potential to kill (in a comedic sense). Two stars.
Skip this book. While it does feature some great photos and reenactments of vertigo challenging moments, Tao Berman, the subject and author is way too full of himself. He is a professional kayaker, who considers himself superior to the regular man (both physically and mentally). Just when the book couldn't get any more self congratulatory, he goes on to tell us how he is now a master of the financial world too...sheesh.
Adrien Roberts is pure San Francisco. I think she is a guy...but looks like a wannabe hot-blonde LA girl. The book is about her zine from Burning Man called "Piss Clear" which she reminds us (way too many times) is the mantra of BM, as in drink enough water to piss clear. Some great photos and antidotes about Black Rock City, but at times she/he comes off as being "too cool for school."